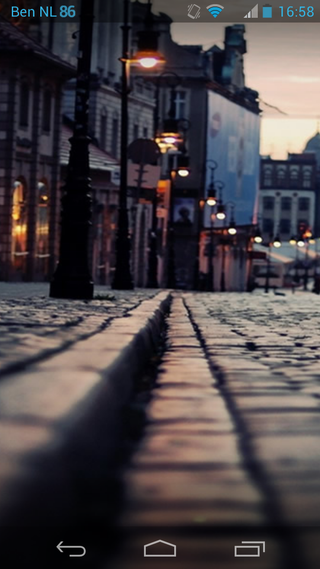 I wanted to make a home screen that would be as clean as possible but still feature rich and efficient. So first I got rid or all the widgets and icons. I then proceeded to make groups of apps that I use the most and ended up with four of them which I put on the dock with Chrome Browser in the middle as fifth item.
I tried to prevent redundant features and widgets such as:
- A clock with date (which I already have in the notification area and can call from anywhere).
- An icon for Settings (which is also present in the notification area and can call from anywhere).
- Google Search/Now (which is something I never use (and doesn't support Dutch)). Instead I just open a browser and start searching.
- A battery widget (which is already present in the notification area and can be called from anywhere).
And probably more stuff I can't think of right now.
I noticed that some of the groups were getting too big so I had to size it down somehow. Fortunately Nova Launcher features icon swipe actions. This enabled me to link a secondary app to an existing icon. I tried to make sure both the primary and secondary (swipe app) would be of similar kind. Skype would double as Tango messenger for example. TuneIn Radio would double as Google Music, 9GAG would double as IMGUR app, Twitter would double as Facebook, YouTube would double as IMDB, the File Manager would double as Google Drive, and so forth. I was able to size the groups down to 6 icons per group.
Something else I did was download a transparant png image to my Android device and I used that as custom icon for all the items in my dock (the four groups and Chrome Browser). By doing this you wouldn't see anything on the home screen ! And only you of course would know where to tap... Much clean, such minimalist, very Doge... :)
Another way to to jam some functionality in the home screen was Nova's swipe actions (not on the icons but on the wallpaper). I wanted to use the 1-finger actions only. So I set the following:
- Swipe up = Phone (dialer)
- Swipe down = People (contacts)
- Double tap = Gmail
Needless to say, the apps above are not present in the groups but are naturally apps I use often.
OK, now that's out of the way what else can we do ? You've probably noticed that since the Jelly Bean update some months ago (in my case) Google Now arrived and can be accessed through swiping up from the Home button on you android phone (again, in my case). Since I don't use Google Now, I searched for something that would replace that action. I found Home Button Launcher by DynamicG. This would, again, enable me to access even more stuff I want quick access too like the Calculator, TrackID, Google Translate, Unit Converter and Unified Remote. I use these apps every now and then, but I always want quick access to them. The Home Button Launcher offers me exactly this.
I searched for a nice icon theme that would feature minimalism and simplicity. I decided to go for SMPL White Theme for GO/NOVA/APEX. He has covered a lot of icons, but unfortunately he doesn't update frequently. I'm positive though that like 90% of the icons on you phone will be switched.
I also downloaded Power Toggles for quick toggles. These include WiFi, Bluetooth, 3G, GPS, Flashlight and a VPN client.
Some more settings/tweaks I have are:
- Used Nova Launcher to set only 1 home screen, since that's enough for me.
- Created two tabs: Apps and Games in my drawer and removed the Widgets tab, since I can add widgets by long pressing on the desktop).
- Disabled icon labels on the dock.
- Disabled Google search widget.
- Enabled infinite scroll in drawer and isolated tabs so I don't go from games to apps and vice versa.
- Set ~50 % transparency in folder background.
- Set most speeds (in Nova) on fast to decrease transition times. I like to work fast but just a bit transition is always welcome.
- Set Home button action as Drawer. So by pressing the home button my drawer would open and close.
- Download the Tesla Unread plugin for message/mail/phone counts.
Below is a list of apps and files I've used.
- Nova Launcher (Prime)
- Tesla Unread plugin for Nova
- A transparent PNG icon (it's 80x80, right click on the upper left corner of the page to download it)
So that's basically it. I hope you guys liked it much and any comments and suggestions are most welcome !